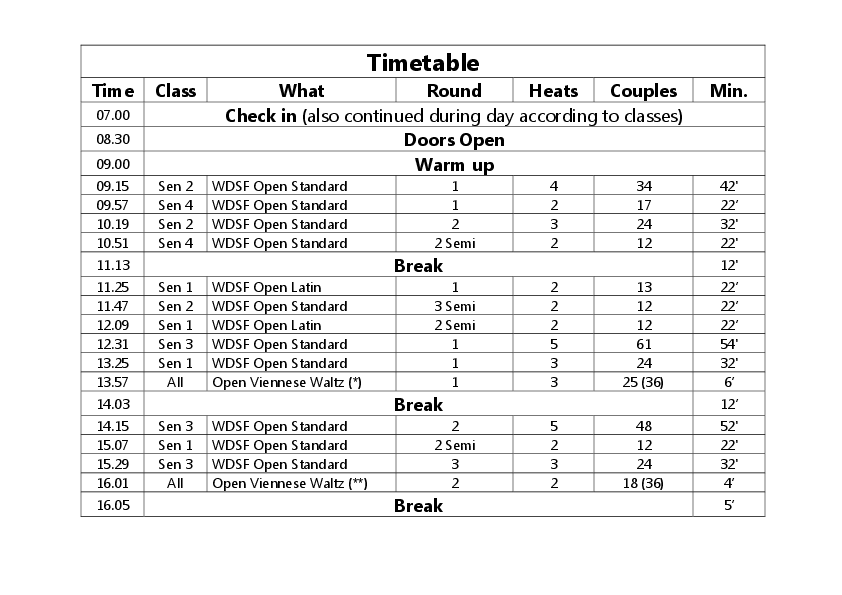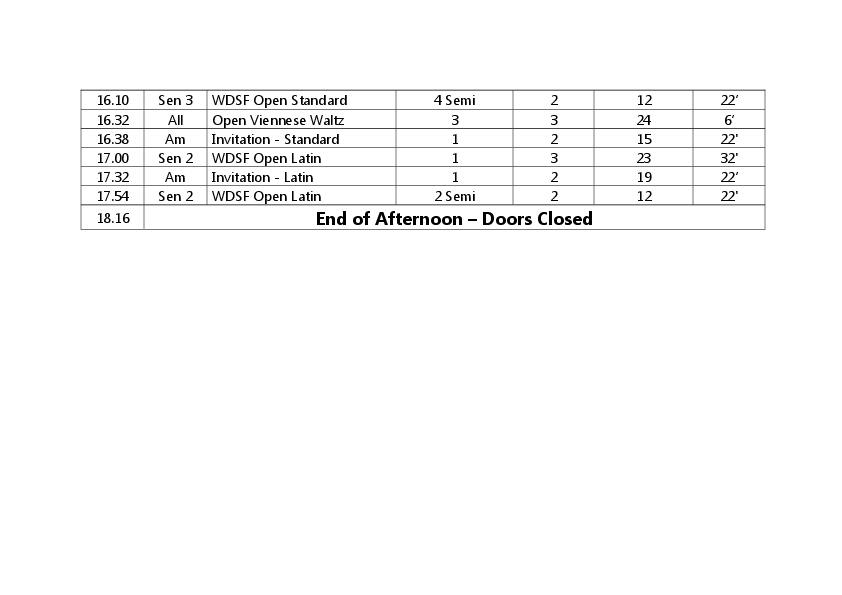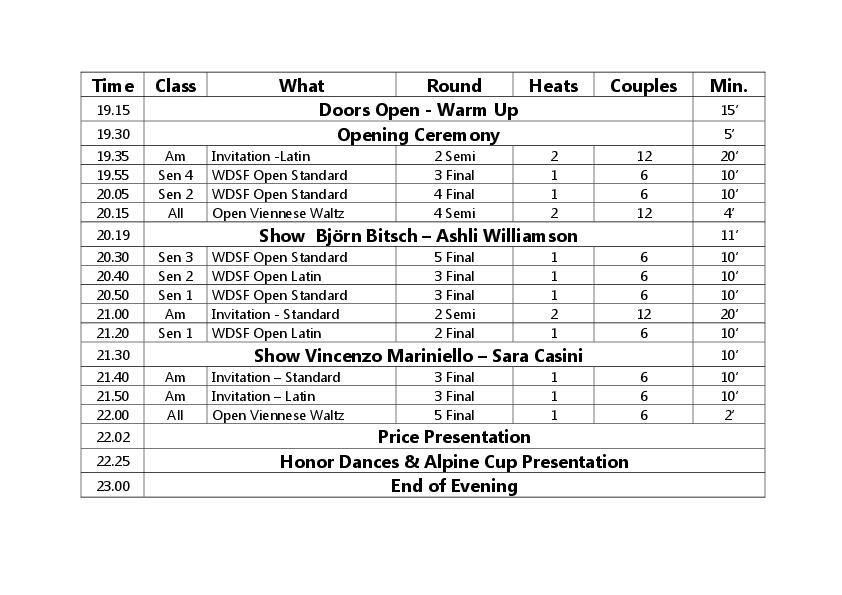 Where is the Competition being held?
Congress-Schladming Europaplatz 800, 8970 Schladming, Austria, Details Click Here
Any recommandations for Hotels?
There are very many wonderful hotel locations in and around Schladming. Our recommendation is to contact:
Can I dance in more than one event?
Yes, in order to give everybody the opportunity to participate in various events, our timetable has been constructed for this possibility; Sen 1 is in the same session as Sen 3, Sen 2 and Sen 4 are also together, giving the couples the most flexibility for dancing in various agegroups as well as in Standard and Latin!
I want to warm up before the competition, possible?
Of course!!! This is a sports event and athletes need proper facilities! On the first floor of the Congress-Schladming is Hall Rohrmoos, 22.4 Meters long X 12.3 Meters wide! With its dedicated Music System and AirConditioning it is the perfect "Warm-Up-Facility" all day long!
How much does it cost?
There is only one entry fee covering all events, no matter how many you like to participate in.
This fee is €60.- (per couple), covering all Senior 1/2/3/4 events Standard & Latin and the "Viennese-Classic". Should you only want to take part in the "Viennese-Classic" the fee is €15.- (per couple).
If you have been invited by us to be a participant in the Special Invitation Amateur Standard or Latin Competitions, there is, of course, no fee.
Where and how do I enter and pay this fee?
All our entries are managed officially by the WDSF-CRS (Competition Registration System), that at the same time checks all your WDSF Registration details, you can enter either through our dedicated Competitions & Entry-Page, or directly via the Calendar and Registration on the WDSF Website. In both cases you will get all further information concerning payment during the course of your entry.
I only have old shoes without heel protectors, can I take part?
Absolutely not!!! Heel protectors are compulsory and any damage caused by neglecting this ruling is the financial responsibility of the culprit!!!
The very first and very preliminary timetable (@05-06-2018):
09.00 - 12.30 Morning Session: WDSF Sen 2 Standard, WDSF Sen 4 Standard, First and Second Round of "Viennese-Classic" (according to the amount of entries)
12.30 - 17.30 Afternoon Session: WDSF Sen 1 Standard, WDSF Sen 3 Standard, WDSF Sen 1 Latin, WDSF Sen 2 Latin, "Viennese-Classic"
19.30 - 22.30 Evening Session: WDSF Sen 1/2/3/4 Standard Finals, WDSF Sen 1/2 Latin Finals, "Viennese-Classic" Final, Special Invitation Amateur Standard, Special Invitation Amateur Latin and Prize Presentations
22.30 - 23.00 Encore: Honor Dances and Presentation of the Alpine Cup Schladming